Welcome to the Impact Printing Online Store!

Impact Printing Is PayPal Verified
Walk-Ins Welcome at our store on 1067 Rice Street, Saint Paul, MN. Daily Walk-In Specials.
All Signs & Bumper Stickers are © Copyrighted. Only the online images show watermark. Actual sign is free of "©Impact Printing" watermark.
PayPal buttons below allow you to order more than 1 sign and save money on each additional sign shipping charges.
---
Featured Signs
Laura Thompson "Love Your Neighbor" Lawn Sign
Lawn Thompson has chosen Impact Printing to officially print her popular "Love Your Neighbor" lawn sign as shown on the TV show Minnesota's Own Kare 11. This sign is 18" x 24" printed in color on both sides on 4 mm thick opaque plastic. It comes with a heavy duty metal stand and is available over the counter for pick up with walk-ins welcome for only $8 at the Impact Printing store at 1067 Rice Street in Saint Paul, Minnesota. Or order online using the PayPal button below:
---
Gun Rally Signs Shown Below Available At Impact Printing
We Have Your Gun Law School Shooting Safe School Rally Signs Available Now!
What's Trending Now
The Walk Trump To The Gates Of Hell Sign
Measures 12" tall by 18 " wide. Made of 3 mm Epvc plastic covered with high gloss laminate for a suburb finish that is water, sun and weather resistant.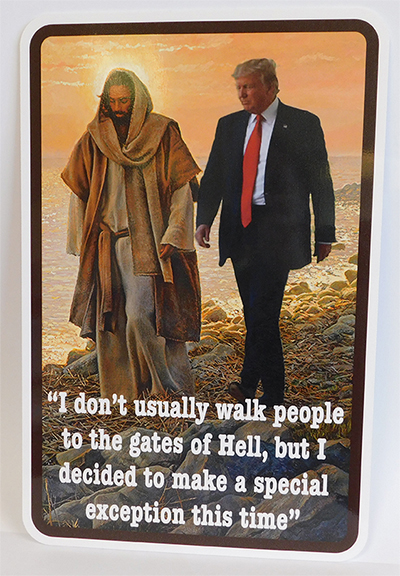 Pick up in store or order with PayPal button below:
What's trending now is die cut signs! Impact Printing are die cut specialists. The hand held signs featured below are created on state-of-the-art digital die cut machines for a perfect edge to the top part of the sign and the entire handle. The signs are one piece with the handle being part of the 15" x 22" piece of 4 mm thick opaque plastic sign material. Where the signs are shown with one image below, the signs have the same image printed on both sides of the sign. Where the signs are shown below with two images, the sign has the different images shown printed one image on the front and the other image on the back side of the sign.
New Feature: Our newer PayPal buttons now feature the option of giving you the choice to have your order shipped or to pick up your order in our store on Rice Street without paying for shipping. The option choice becomes available near the end of the check out process. For example, the humorous Trump signs below are $8 over-the-counter pick up in our store with no shipping charges, or you will have the option to choose to have the sign shipped and pay $8 for the sign plus $9.95 shipping.
Higher volume discounts available. Call Debbie at 651-489-0803.
---
Humorous Trump Signs